Frequently Asked Questions
and
Features Included in Our Websites
A
lthough we have tried to keep things simple, there are undoubtedly things you will want to know. Here we have tried to answer your questions before you ask them! We have also explained about some of the features we automatically include in our coding.
Please contact us if you have any further questions, or would like something clarified.
Button Links
Contact Form
Copyright Ownership
Date (on pages)
Different Size Computer Screens
Do You Give Refunds?
Email
Find A Host
How Long Until My Website Is Ready?
Images and Photographs
Links To Other Pages
Meta Tags
Our Logo
Payment Methods
Refresh Page
See Before You Buy
Sending Your Website To You
Speech Recognition Software
Target Links
Updating Pages
Visitor Counters
Why You Need A Host
Why Use Contact Forms?
Not everyone has email, therefore we suggest having a form which can be filled in by your customers/visitors. Their message is sent to you as an email.
The form can include drop down menus (see our Contact Us page for examples). On completion of the form the writer clicks to send it - however, if certain information is missing a message will be displayed requiring the sender to correct the problem and re-submit. This is particulary important with their contact information, but you can say which information
must
be included in order for the form to be sent.
When a form has been submitted an acknowledgement displayed. If they have supplied an email address they will receive an email confirming that their request has been sent. The text of this email can be adjusted to suite your needs.
Just like emails, information sent using a form is not secure so you should not ask your corresponder to include personal information such as bank account details.
You will need to check your hosting company can support the coding we use to provide this functionality - known as .asp - as this may not be a standard feature of the package you have.
Who Owns The Copyright?
You will own the copyright of your website. We will display this information on each page (see the bottom of this page for an example).
We will only include images on your website if the copyright owner has agreed its use. Any pictures/photographs we supply will either be royalty-free or we own the copyright.
Email
When we include email address on our websites we include anti-spam coding.
Visitors who use Outlook Express can use the clickable link to automatically produce an email.
How Can I Pay You?
You can pay by credit card via PayPal, bank transfer or by cheque.
Do you give Refunds?
Design/Writing the webpages
- you do not pay for your website until you are happy with what we have produced for you. The assumption when you send payment is that you are happy and accept the work we have done. Therefore, we do not offer a refund.
Refund on Hosting Fees
- there are two fees involved:
Organising A Host For You
We can organise a website hosting package for you - we charge you a one-off fee to organise this and once we have done this work we do not offer a refund.
Hosting Company's Fee
It is unlikely that a hosting company will offer a refund should you decide you no longer want them to host your website - this will be mentioned in their terms and conditions.
Please note if you want us deal with the hosting company to try to obtain a refund on your behalf we will expect to paid for our time.
Therefore, we suggest you should consider your hosting fees as non-refundable.
Why Do I Need A Host?
Put simply, you are renting space on a computer that the whole world can access.
These companies will already have the experience and know-how and their servers will be dedicated to hosting websites and will probably have a much larger bandwith than your own server thus enabling many visitors at once. Another important feature is the security of your own server as it will not need to be accessed by other computers.
Can I Organise My Own Host?
Yes, of course!
If we have used certain formating (such as used for a contact form) for your website you will need to check your host will support it. We can advise you of these features once we know what the content of your website will be.
Can I See My Website Before I Decide?
With our Standard service website we will put the webpages on a test website for you to view. Once any 'tweaking' has been done you can then decide whether to accept or decline our service.
Different computer screens are different sizes - how do you get round that?
Many computers have different size screens - a bit like 'ordinary' and wide-screen televisions. Our websites are designed to allow the content to fit on any size screen - on a narrower screen you will see the content with a small amount of background colour either side and on a wider screen you will simply see extra background colour at the sides.
Pics 1. and 2. show the difference between 'narrow' and wide screens.
How Long Will It Take To Write My Website?
Difficult question to answer! For our Standard service you send us the details (text and pictures) you want on your webite, so we are only producing the code that makes the webpages display; we may also need to create 'buttons' for links.
This can usually be done in just a couple of days, depending on how many pages you require and if we need to ask you questions.
A single webpage can generally be written in one day.
How Do I Update A Page?
Once you have your website pages you can update them yourself as required. If you would like us to update them, please send us the new details and we can make the changes. Our charges for updating pages are shown on our Prices page.
For websites we have not written we may still be able to update them, depending on the code used and whether licences are needed. IF we are able to make these updates, they are usually charged at our regular updating price - before starting work we will advise you of the price per page we will charge.
Speech Recognition Software
Speech Recognition Software (SRS) reads out loud the content of a web page.
Many visually impaired/blind people will have this software installed on their computer to enable them to navigate and understand web pages. People with dislexia or other reading problems also use this type of software.
Having studied how we can improve the visitor's experience, we now incorporate coding that works better with this software than traditional coding.
Personally we have always preferred uncomplicated websites because they are clear and easy to use. Having moving images fly across a page or pictures flashing at you may appear to some to enhance the page, but to us they are rather distracting and sometimes even annoying! We now know these images can interfere with SRS, sometimes enough to cause the program to get stuck on a changing image and not be able to move on to the next piece of text.
We will of course write your website with moving/flashing pictures should you want them, but we want you to be aware that it can affect some of your visitor's experience.
Meta Tags
Meta tags are keywords to describe your business or group and we will included appropriate ones in the page code. These tags are picked up by search engines such as Google so people searching for those words will be directed to your website.
Visitor Counters
If you would like to know how many people visit your website we can include a simple visitor counter on the Home page.
You will need to make sure the host for your website will support the programming language we use to provide this functionality
, known as .asp.
If you would like statistics to go with the visitor counter you will need to buy a package from another company to enable this. A number of companies offer visitor counter packages which can give you comprehensive analysis statistics.
For our
Bespoke
design service we will suggest a company and package for your approval, and
arranging
this will be included in the price.
For our
Standard
design service you will need to arrange and pay for this yourself, but we will not charge you for adding this code to our program. However, if you do not understand how to go about this and would like us to organise this for you we will need to charge you - you will still pay the counter company for their service yourself. If this is still a problem for you, please discuss it with us as we can help you further.
Links To Other Pages
Links to other pages of your website can be in the form of pictures or text or a mixture of both, as appropriate.
As standard we will normally use two sets of links on a page - a column menu on one side of the page using either pictures ('buttons') or as text, and across the bottom of the page as text links.
Text colour of a link will be normally be blue; if the background colour is dark the text link will be white. Text links will also be underlined so people know they are links!
When hovering over a text link it will normally turn red - a different colour will be chosen if red won't show up due to background colour.
Text links with more than one word will have a 'hard space' so they will not be break across two lines.
When you hover over a link or button text will appear on the screen to show what the link is for - this is particularly important for users of Speech Recognition Software, as described above.
Look near the top of this page on the right hand side, just under the picture of pebbles, and you will see our email address is written - put your pointer over this text and you will see it becomes a link to the Contact Us page. We can do this for any area of a page.
Target Links
A target link opens up a new window to view a page. Links to other wesbites will always be a target link so the visitor will not have to find their way back to your site.
Button Links
On the left side of these webpages you will see a list of links to other pages. We call this type of link a Button Link. We create this type of link using a picture.
Creating straightforward buttons, such as the ones we have used, is included in the price for writing the webpage.
We can also create more unusual buttons from any picture - you can send us a picture, or we may already have something suitable. We may need to make a charge for creating these buttons if they are more complicated, but you will be told about this and can choose whether to have them or not.
When a visitor is on a particular page, that page's button will display differently. At this website you will see the buttons usually have black letters but when the visitor is on that page the text is white.
Sending Your Website To You
Once you have seen the test website and agreed to purchase it from us, we will expect payment. Once funds have cleared we will send you the website pages on a CD.
The CD will have various files, folders and sub-folders on it, but you will simply need to copy the entire contents to your web host's site.
We will be happy to do this for you provided you supply us with the relevant details and passwords.
Images and Photographs
We will not use any images or photographs without permission from the copyright owner.
Our Logo
It is usual for the writer of a website to include a link to their website. We will include a link to this website (as shown on the bottom right of this page) unless tell us not to.
Page Dating
We will put a 'Page last updated' message at the bottom of each page unless you tell us not to.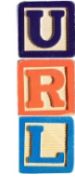 Automatic Refresh Page
Most computers will store a webpage in its memory and if you visit that page again it will display the stored page rather than the 'live' webpage. This is because the page will load quicker from memory than downloading the live page, although with broadband speed being much quicker these days, perhaps it isn't as noticeable as it used to be.
However, for some pages showing a stored webpage is not acceptable. For any page that includes dates and figures (such as prices) we will include code that will force the computer to show the latest version.