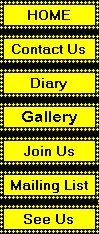 ~~~~~~~~~~~~~~~~~~~~~~~~~~suggestions~~~~~~~~~~~~~~~~~~~~~~~~~~



For a drama or other group we suggest including details about


Forthcoming productions and how to obtain tickets.
A profile of cast members.
If you are taking on new members, and how to join.
A Members area with info about next production's rehearsals etc.
Details of how to subscribe if you have a mailing list.
Directions to venue.
A photo gallery of past productions.