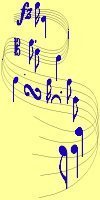 ~~~~~~~~~~~~~~~~~~~~~~~~~~suggestions~~~~~~~~~~~~~~~~~~~~~~~~~~



For your Choir or group website we suggest:


A Diary/Rehearsal page for members.
How you can be contacted - give at least a phone number or email address, preferably both.
Whether you are taking on new members and, if so, whether auditions are necessary.
What kind of music you perform - harmony, west end musical, hymns etc.
Whether you use/need musicians.
Performance dates and how tickets can be obtained.
Links page or Notice Board.
Details on services offered - eg singing workshops.
FAQs - details of membership costs, reheasal venue etc.
A photo gallery.
Include appropriate funding/sponsorship info, eg Arts Council.

Take a look at the Swindon Scratch Choir's website.